I'm trilled to share with you some of the eclectic artists I had the pleasure of discovering at this year's Miart exhibition. Miart, a renowned international art fair held annually in Milan, has once again showcased a captivating selection of contemporary artworks from around the world. Here are a few exceptional talents that caught my attention:
Natalia Gonzalez Martin works on a small scale, using traditional painting techniques that draw their influence from Christian religious iconography and medieval illuminated manuscripts informed by her Spanish customs and heritage. Through meticulously detailed brushstrokes, she beautifully captures the intimate essence of the female figure, evoking an alluring interplay between desire and the forbidden.
Stefano Calligaro: His work work brings into play a whole variety of strategies that question with irony and anarchic sensibility the essence of art, and the role of the artist in contemporary society. Through his ongoing collection of Poetricks, Materializations, and Self-portraits, language takes center stage, leading viewers on a mesmerizing journey through a kaleidoscope of meanings.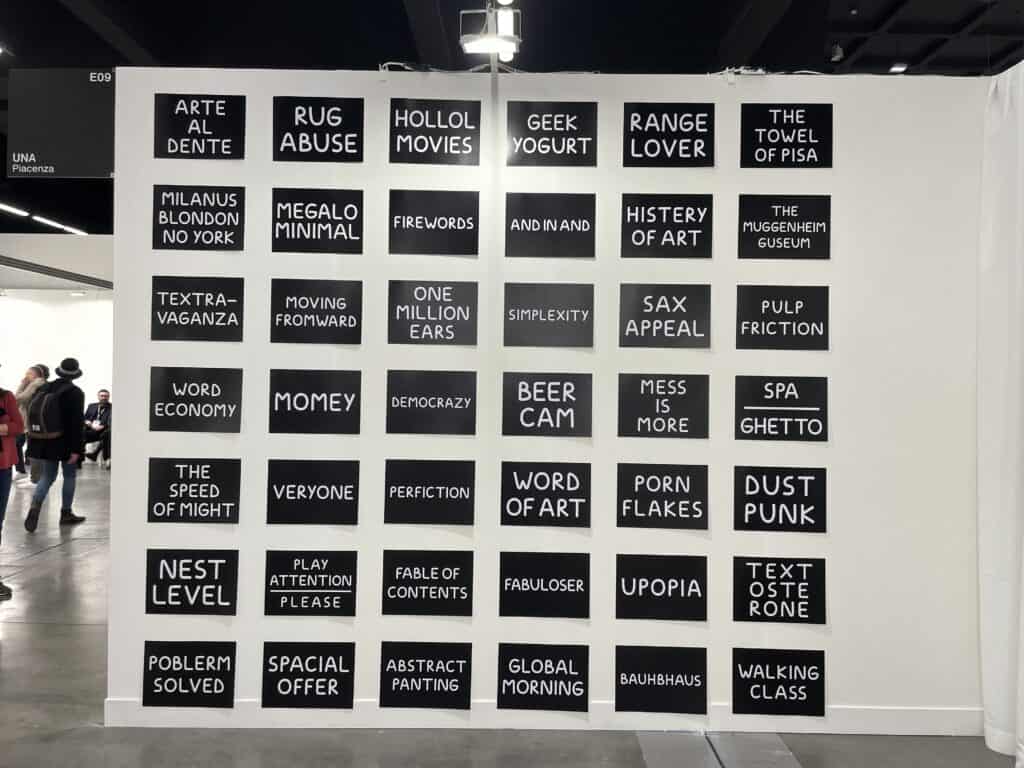 "As we happen to happen, the world I draw is created by coincidence, just like we do. I work with meaning to create a world that blends in with me, just as you and I happen to have a relationship. Just as I comfort myself by drawing, I hope you will be comforted by my work."
– Sang A Han
Using Korean ink on fabric, Sang A Han paints her inner landscape in which her experiences and emotions at her major life events intertwine with fantasy. Through metaphor and imagination, Han constructs a universe where she confronts her anxiety while establishing her identity as a mother and artist—at the same time, discovering a hope within and shedding its light.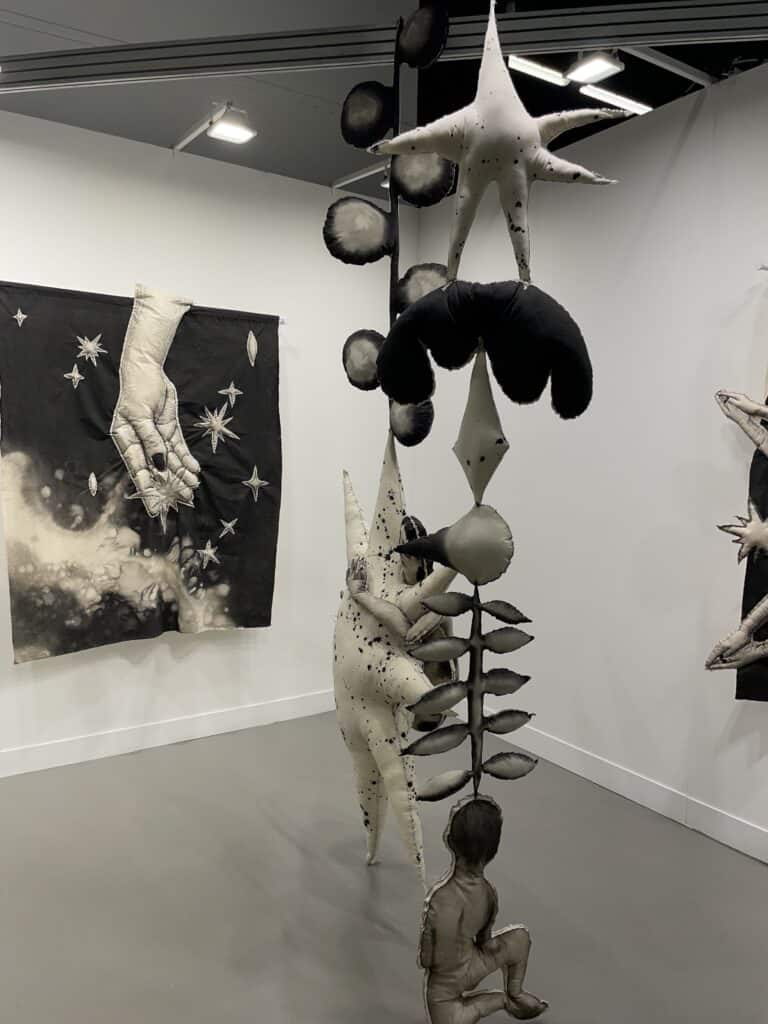 Aya Takano, a multidisciplinary artist encompassing the realms of painting, illustration, sci-fi writing, and manga, finds inspiration in a wide array of art forms. From the erotic stamps of the Edo Period to impressionism, from Osamu Tezuka to Gustav Klimt, her artistic journey is a fusion of diverse influences. Within her own crafted universe, Aya Takano explores infinite worlds that offer an escape from reality's constraints, gravity, and conventional boundaries, ultimately seeking a transcendental experience.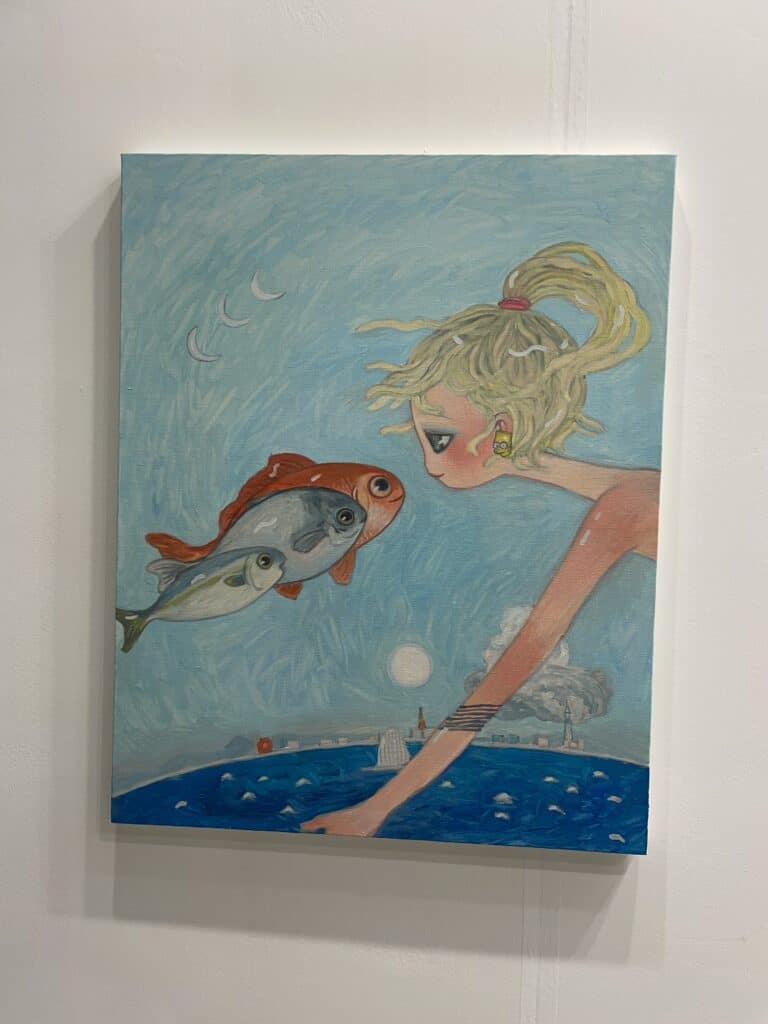 Zehra Doğan is a multi-talented artist, journalist, and activist born in 1989 in Diyarbakır, Turkey. She co-founded JINHA, the first all-women press agency, and played a vital role in reporting on issues affecting women and marginalized communities. Her work as a journalist took her to conflict zones in Iraq and Syria, where she fearlessly documented the experiences of those affected by war, including the plight of Êzidî women enslaved by ISIS.
Zehra's artistic endeavors reflect her passion for addressing social and political issues. Her paintings and drawings depict intimate and thought-provoking scenes, often featuring naively drawn and androgynous figures, exploring themes of identity, femininity, and the impact of conflict on individuals and communities. Her art has been exhibited internationally, gaining recognition and acclaim.
However, Zehra's commitment to journalism and art came at a price. She was unjustly imprisoned by the Turkish government on charges of "terrorist propaganda" for her writings and artwork depicting the destruction caused by the Turkish army. Despite facing adversity, Zehra continued to create and express herself, even during her time in hiding.
Zehra's story has captured global attention and solidarity from artists, journalists, and activists worldwide. Her resilience, courage, and artistic talent have made her a symbol of freedom of expression and a relentless advocate for human rights. Through her art and activism, Zehra Doğan continues to inspire others and shed light on the pressing issues faced by marginalized communities.
Chiara Baima Poma: In a static present of figurative art, she shows us how true inventiveness resides in the past. A mythical past composed of proverbs that, if imagined literally, become mystical universes. It is a past that looks to the great masters of painting as heralds of a reality that blurs the distinction between sacred and human.