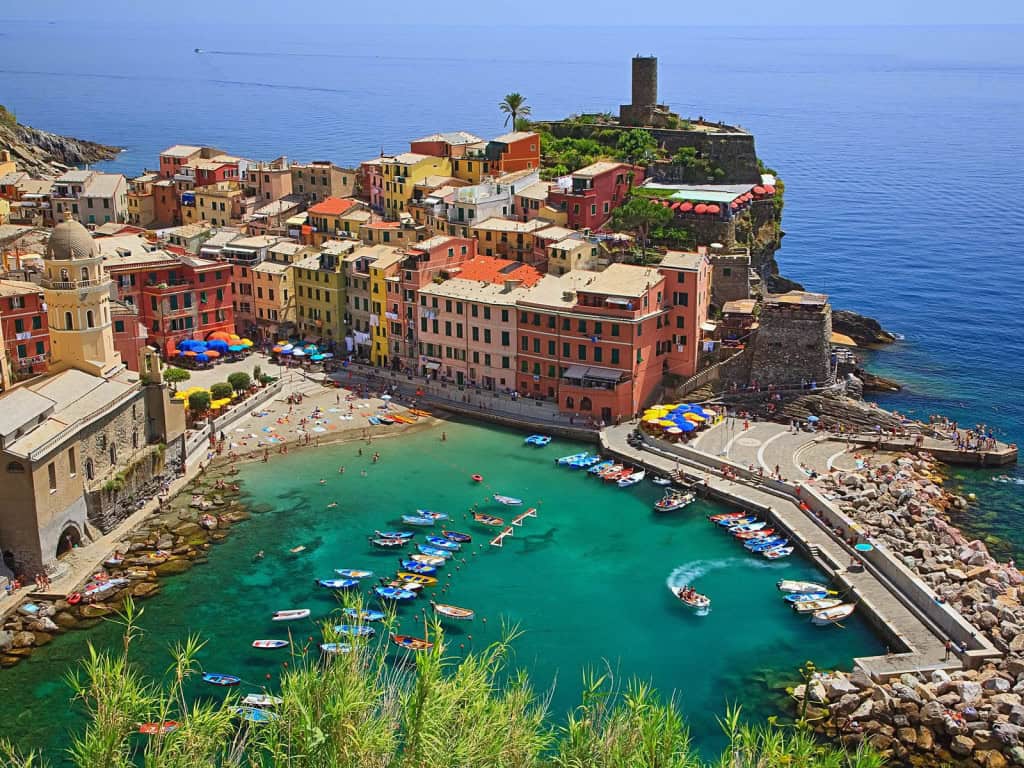 The delight of the Cinque Terre, a place that has lent itself to the shape of
ground defying the centuries. A perfect harmony between nature and hand surgery
of man. Reverse on the sea and covered with colors, those of the houses and gardens
orchard, which have made it a place among the most beautiful in Italy and the Mediterranean.
La delizia delle Cinque Terre, un luogo che si è prestato alla conformazione del
suolo sfidando i secoli. Un'armonia perfetta tra mano della natura ed intervento
dell'uomo. Riverso sul mare e ricoperto di colori, quelli delle case e dei giardini
di frutteto, che ne hanno fatto un luogo tra i più belli d'Italia e del Mediterraneo.
As Guy de Maupassant used to call "… a small village spreading
like a crescent moon around this quiet basin. "
In addition to expensive boutiques, there are cheap souvenir shops and small craft
workshops. Via Roma leads from the port to the top, and is the busiest street,
with a typical holiday going of the coast. The pretty Piazzetta of the harbor is the location
to get relax with a drink and watch the boats on the dock. The whole atmosphere
becomes picturesque, nearly belonged to a world of fantasy.
Come amava definirla Guy de Maupassant "…un piccolo villaggio che si allarga
come un arco di luna attorno a questo calmo bacino".
Oltre a boutique costose, ci sono negozi di souvenir economici e piccoli laboratori
artigianali. Via Roma dal porto conduce verso l'alto, ed è la strada più frequentata,
con un tipico via vai vacanziero da riviera. La graziosa Piazzetta del porto è il luogo
ideale per rilassarsi con un drink e guardare le barche sul molo. Tutta l'atmosfera
diventa pittoresca, quasi appartenesse ad un mondo di fantasia.