Perhaps today it seems hard to believe, but in the long Milan has been a city
that was scary. The darker side of Milan is done by ghosts, demons and witches,
creating a set of legends which often got lost in memory.
If you are looking for a place really able to put the willies, we recommend
a visit to San Bernardino alle Ossa. The name of this small church, situated
Piazza Santo Stefano and built over a cemetery, comes from the particular
chapel entirely decorated with bones and skulls.
Oggi forse sembra difficile da credere, ma a lungo Milano è stata una città
che faceva paura. Il lato più dark di Milano è fatto fantasmi, demoni e streghe,
creando un insieme di leggende di cui spesso si è persa la memoria.
Se cercate un luogo veramente in grado di mettere i brividi, vi consigliamo
una visita a San Bernardino alle Ossa. Il nome di questa piccola chiesa, situata
in Piazza Santo Stefano e costruita sopra un cimitero, deriva dalla particolare
cappella interamente decorata con ossa e teschi.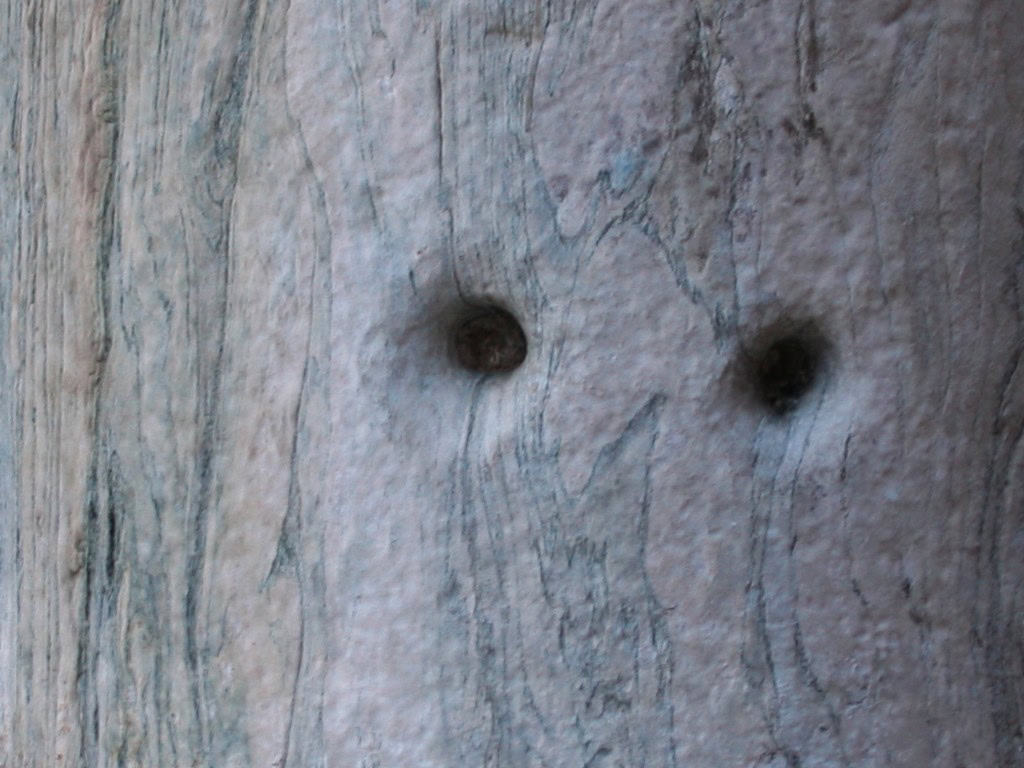 Satan has always had a certain familiarity with the city of Milan. One of
the oldest battle between Sant'Ambrosio and the Devil, which took place
precisely where is located Basilica dedicated to the patron. In the fury of
combat,the devil ended up caught by its horns in a column, and had to escape
squeeze into one of the holes created by its own horns.
Satana ha sempre avuto una certa familiarità con la città di Milano. Una delle
più antiche è quella della battaglia tra Sant'Ambrogio e il Diavolo, avvenuta
proprio dove sorge la basilica dedicata al patrono. Nella furia del combattimento,
il demonio finì incastrato con le corna in una colonna, e per scappare dovette
infilarsi in uno dei buchi creati dalla sua stessa cornata.
Sant'Eustorgio Basilica, one of the oldest churches in Milan, rich in history
and traditions, which among other things has an early Christian necropolis and
a large tomb which houses the remains of the Magi. Inside the Portinari Chapel,
masterpiece of Renaissance Milan, is in fact a mysterious fresco:one depicting
a Madonna and Child, both of which have horns.
Basilica Sant'Eustorgio, una delle chiese più antiche di Milano, ricca di storia
e tradizioni, che tra le altre cose ospita una necropoli paleocristiana e un grande
sepolcro dove sono custoditi i resti dei Re Magi. All'interno della Cappella Portinari,
capolavoro del rinascimento milanese, si trova infatti un affresco misterioso:
quello che ritrae una Madonna con Bambino, entrambi dotati di corna.
Via Bagnera is the narrowest street in Milan. Located in the city center,
close to Via Torino, between labyrinthine alleys paved with stone, is the typical
place where you wouldn't like to pass at night. It's in fact the way
that in the first half of the nineteenth century the serial killer of Milan
hid the bodies of their victims. I'm talking about Antonio Boggia, the infamous
"monster of the Strict Bagnera." Accused of four brutal murders, Boggia was also
the last civil publicly hanged in Milan, located on the lawn of death between
the current avenueBligny and Viale Beatrice d'Este. But do not worry, with the rising
of the sun even the monsters return to their dark corners and you can walk again
quiet forthe streets of Milan. Happy Halloween!!
Via Bagnera è la strada più stretta di Milano. Collocata in pieno centro, a
ridosso di via Torino, tra vicoletti labirintici lastricati di pietra, è il tipico
posto dove non vorreste passare da soli a notte inoltrata. E' in questa via infatti
che a metà dell'Ottocento il primo serial killer di Milano nascondeva i corpi delle
proprie vittime. Parliamo di Antonio Boggia, il famigerato "mostro della Stretta Bagnera".
Accusato di quattro efferati omicidi, Boggia fu anche l'ultimo civile ad essere
pubblicamente impiccato a Milano, nel prato della morte collocato tra l'attuale viale
Bligny e viale Beatrice d'Este. Ma niente paura, col sorgere del sole anche i mostri
ritornano nei loro angoli bui e voi potrete tornare a camminare tranquilli per
le vie di Milano. Buon Halloween