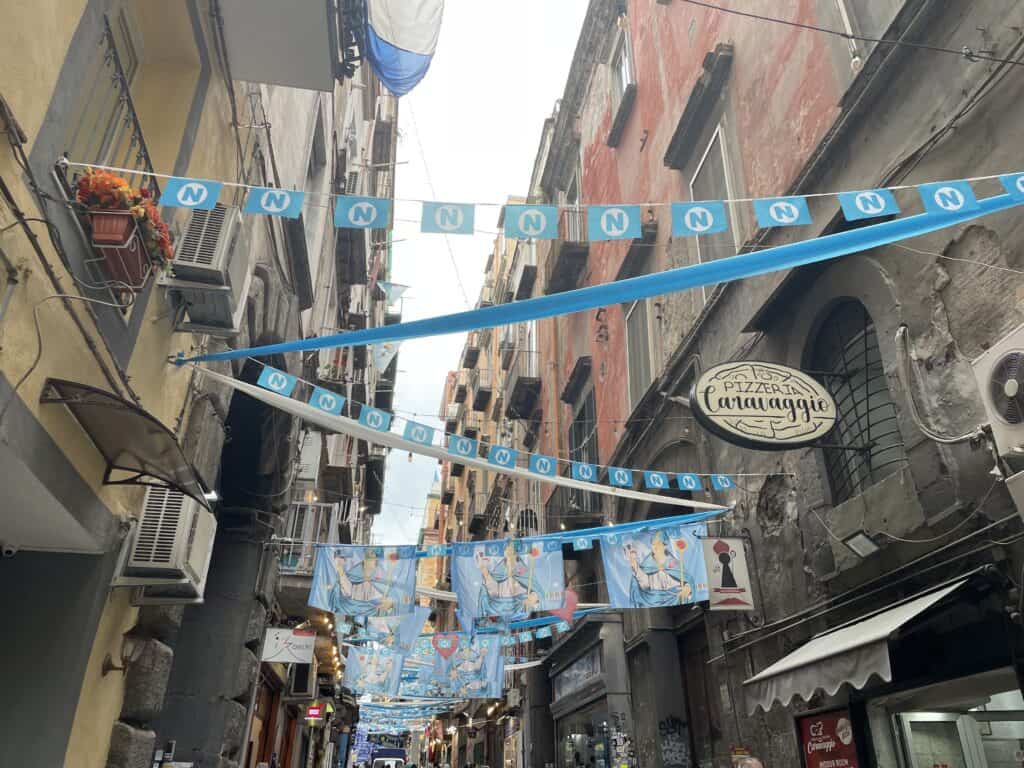 Are you ready for an exhilarating adventure through the vibrant streets of this captivating Italian city? Prepare to be enchanted as we embark on a whirlwind journey, uncovering the hidden gems and secrets of Naples in 48 hours. Buckle up and let's dive into the highlights!
For several years, Naples has gained national and international recognition for its murals and street art, which can be found everywhere, from the city center to the outskirts. Many artists have developed a deep affection for this city and sought to leave their mark on its walls. Beginning in the historic center, one of the most famous murals is undoubtedly the work of Jorit Agoch at the beginning of Forcella, titled "Gennaro," in honor of the city's patron saint.
Scaturchio Bar: Time for a delightful break! Indulge in the sweet temptations of Scaturchio Bar, a historic pastry shop that has been tantalizing taste buds since 1903. Treat yourself to the iconic sfogliatella—a flaky, cream-filled pastry that Naples is famous for—and savor the flavors that have delighted locals and visitors alike for generations.
Chiesa dei Santi Marcellino e Festo: Next, visit the magnificent Chiesa dei Santi Marcellino e Festo, an architectural marvel that dates back to the 8th century. Step inside and be transported to a realm of serenity and grandeur, adorned with exquisite frescoes, intricate sculptures, and awe-inspiring religious artifacts.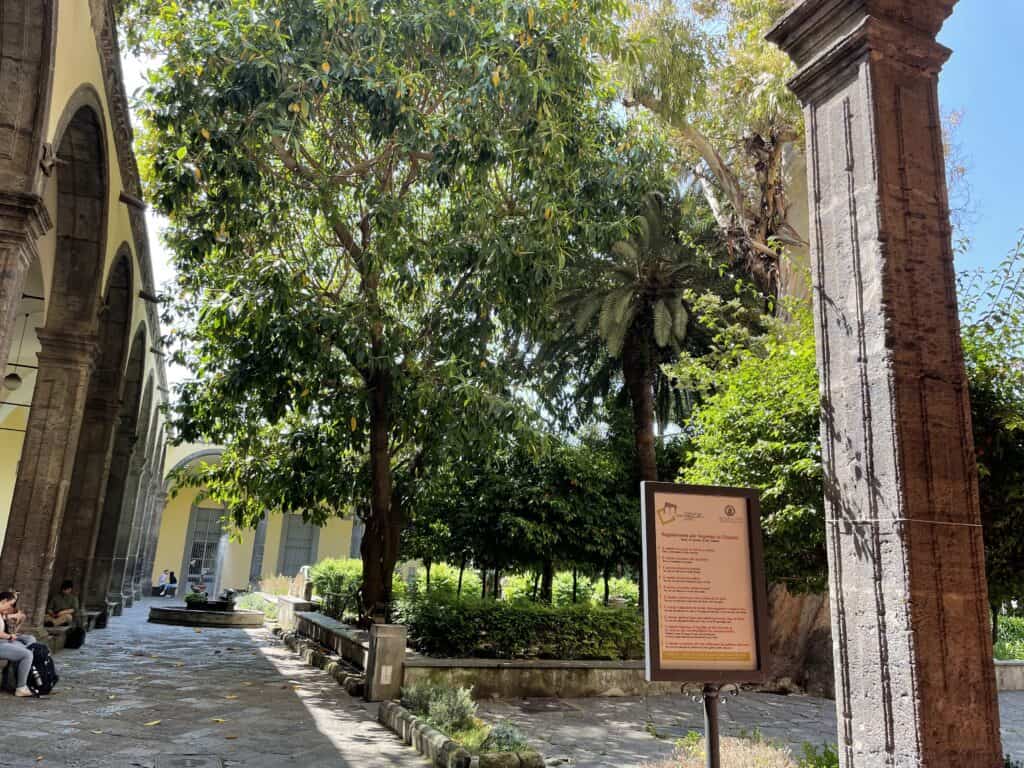 HEM vintage store: Ready for a dose of vintage charm? Head over to HEM vintage store, a treasure trove of fashion from decades past. Explore racks filled with unique clothing, accessories, and timeless piece. Find a one-of-a-kind souvenir that perfectly captures the spirit of Naples.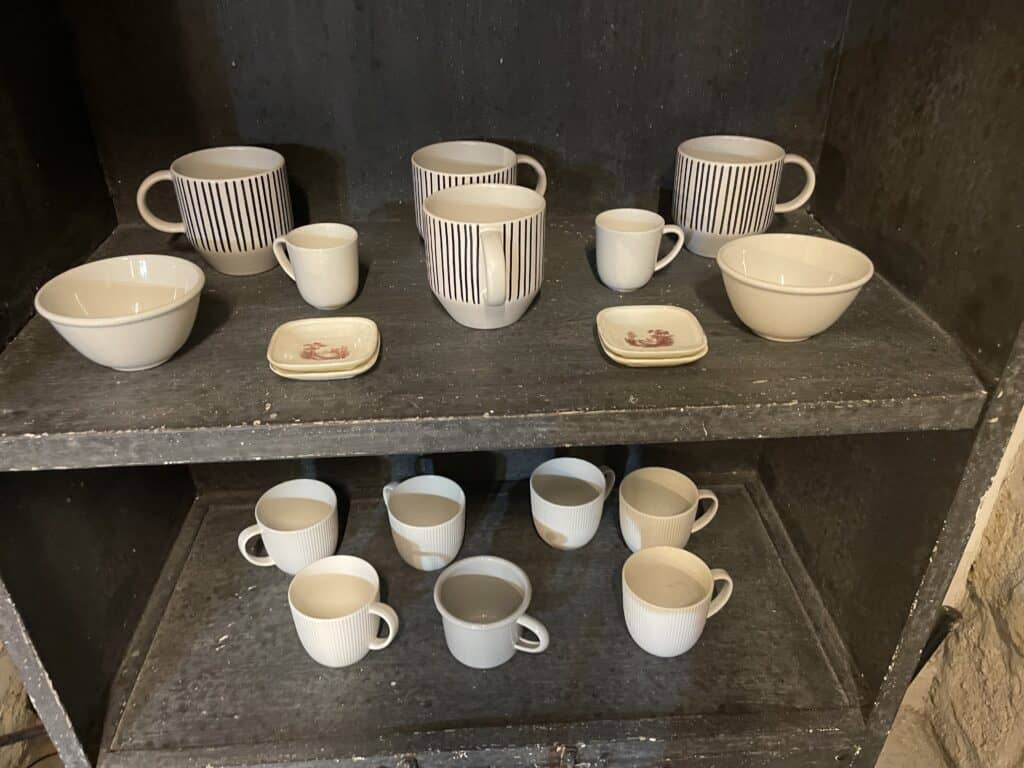 Ospedale delle Bambole: Prepare for a peculiar yet fascinating stop at Ospedale delle Bambole, the Doll Hospital. Discover a world where dolls are lovingly repaired and restored, preserving their history and sentimental value. Witness skilled artisans breathe life back into these cherished toys, immersing yourself in a whimsical and heartwarming experience.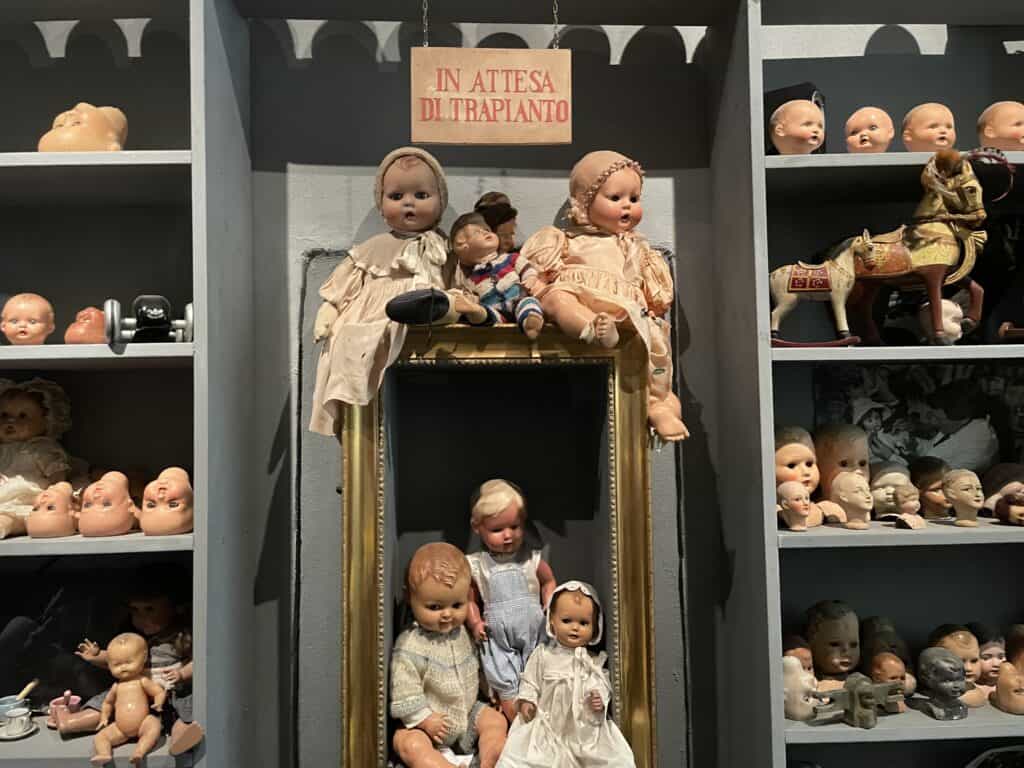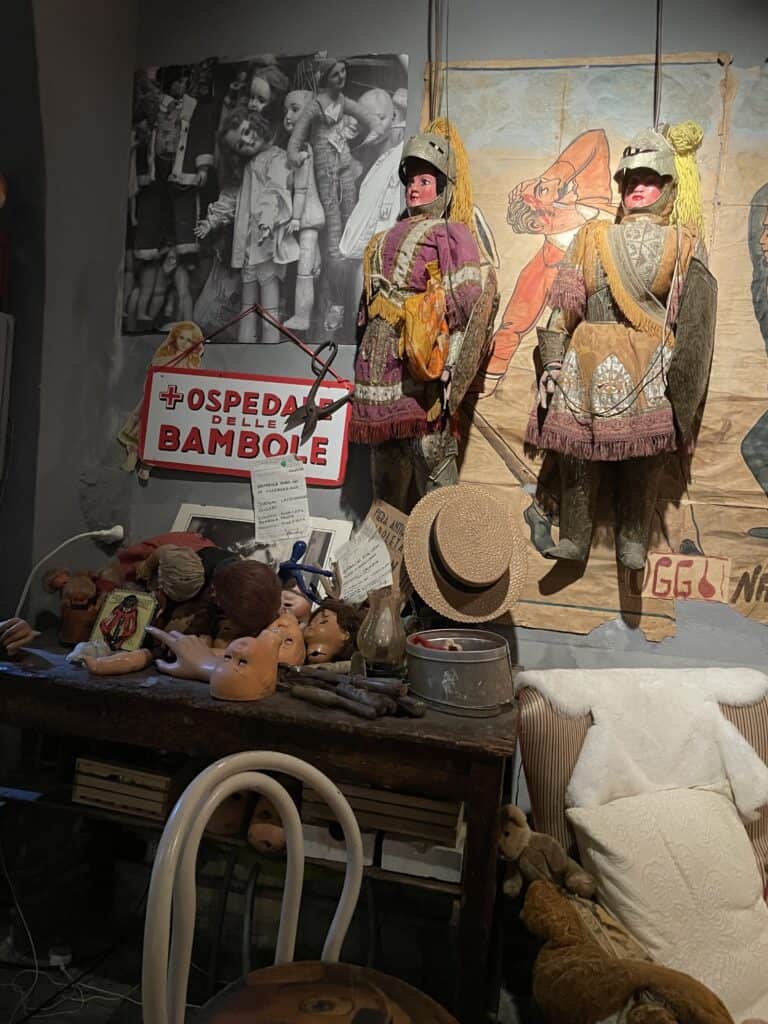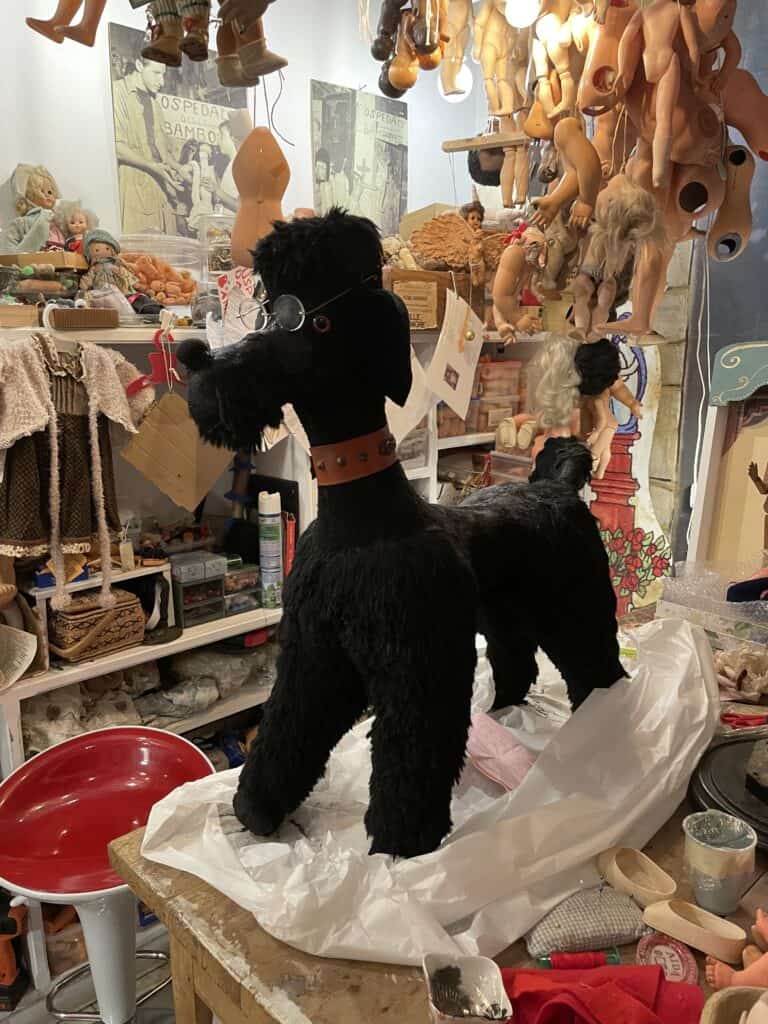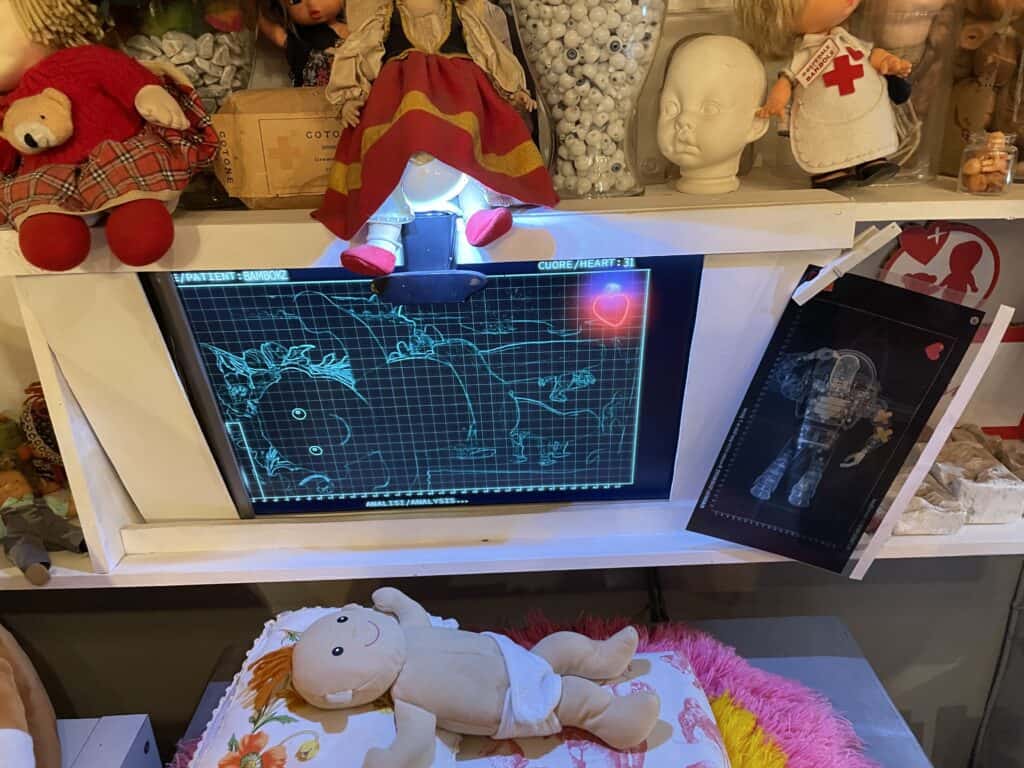 Busto di Pulcinella: No visit to Naples is complete without encountering the iconic Busto di Pulcinella. This sculpture, representing the mischievous and beloved character from the Neapolitan Commedia dell'Arte, embodies the city's playful spirit and sense of humor. Snap a photo with Pulcinella and embrace the whimsy of Naples.
Murales di Banksy "La madonna con la pistola": Prepare to be captivated by the thought-provoking art of Banksy. Seek out the mesmerizing mural "La madonna con la pistola" tucked away in the narrow streets of Naples. Reflect on the social commentary conveyed by this renowned street artist as you decipher the hidden messages and contemplate its meaning.
Galleria Borbonica: Unearth the secrets beneath the surface as you descend into the underground tunnels of Galleria Borbonica. Once a hidden world, these ancient passageways now reveal their fascinating history. Explore the catacombs, hidden rooms, and historical artifacts, and immerse yourself in the mysteries that lie beneath the bustling city streets.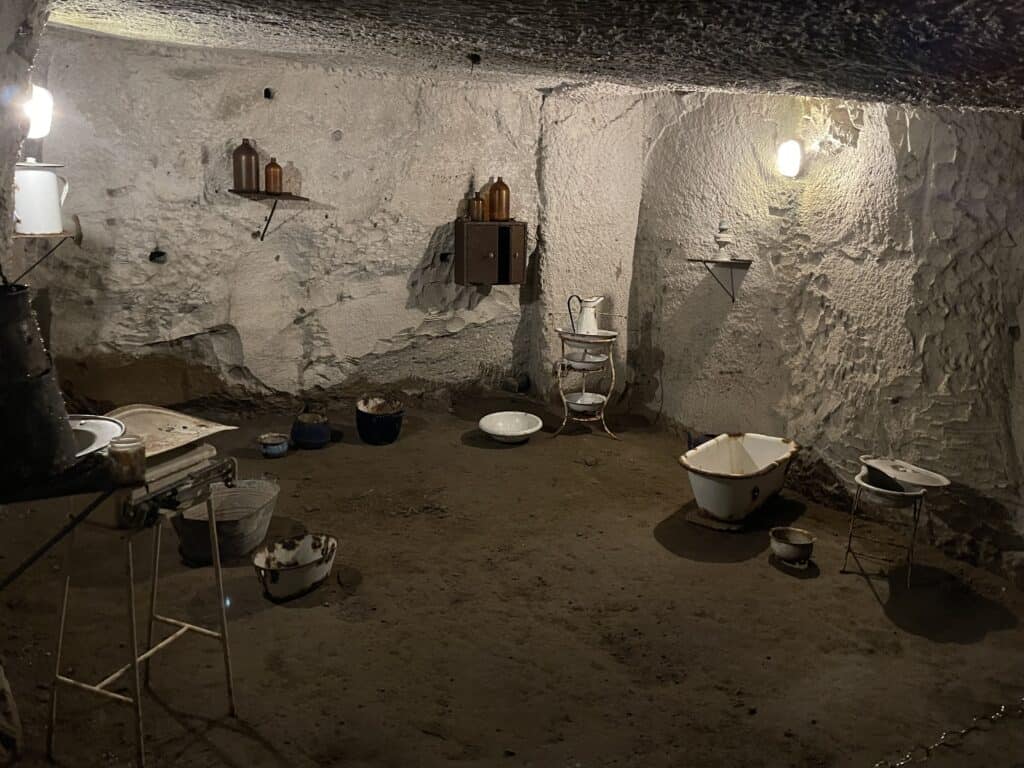 L'Antiquario Cocktail Bar: L'Antiquario Speakeasy bar in Naples is a hidden gem that transports you back in time to the era of Prohibition. Tucked away behind a discreet door, this speakeasy offers a unique atmosphere, vintage decor, and a wide selection of expertly crafted cocktails, making it a must-visit for those seeking a touch of mystery and nostalgia in the heart of Naples.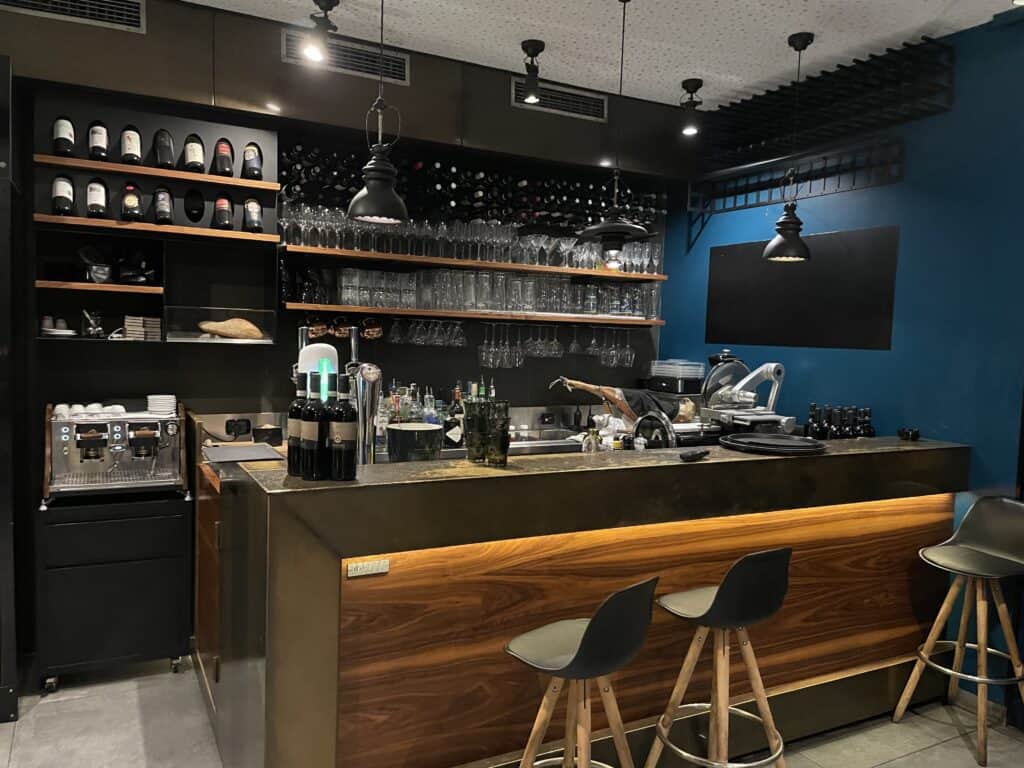 Day 2:
Start your day at Bar Miranapoli. Just a few meters from the sea, this popular bar features a terrace where you can enjoy a drink or sample the legendary Neapolitan babà. The view you can experience is exceptional, with the sea, hills, and Mount Vesuvius.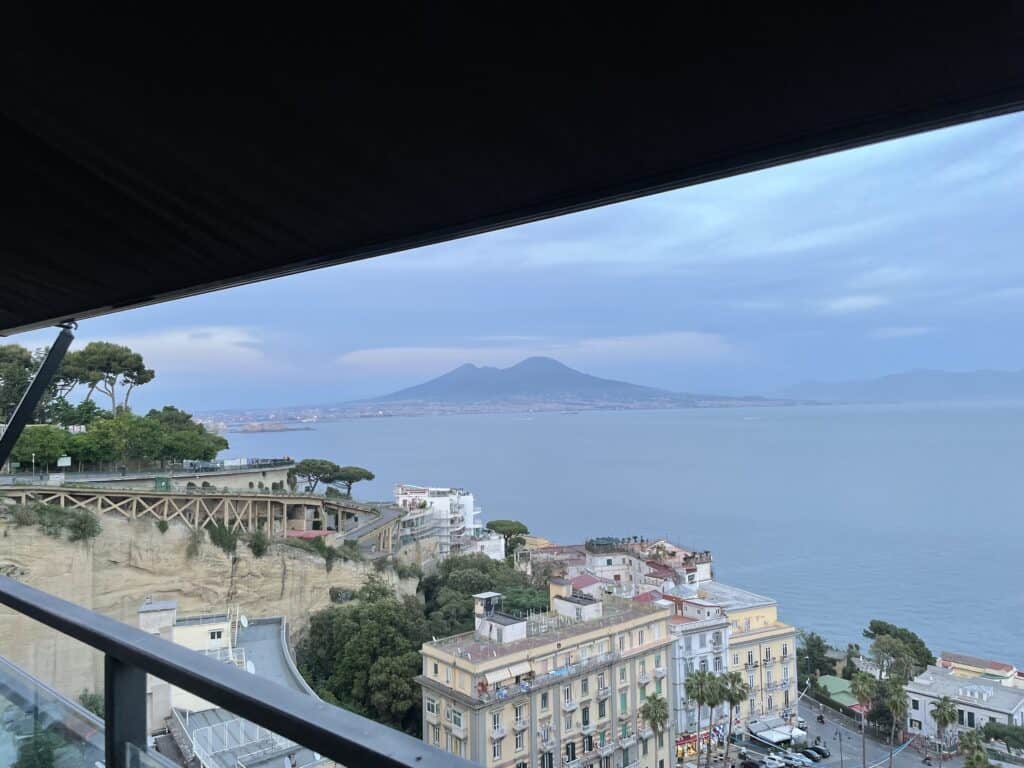 While walking along Via Foria, right in front of the entrance to the Botanical Garden, you'll come across a seventeenth-century palace that discreetly guards a small staircase flanked by two timeless clay busts. They give the impression of having the duty to protect the access to one of Naples' oldest nurseries, Vivaio Calvanese, a hidden green oasis in the heart of the city. The nursery is the successor of the Calabrese botanical establishment, founded by Francesco Saverio Calabrese in 1864 and later made famous by the founder's son, Francesco Paolo, and his German wife, Rita Stern, the true soul of the place.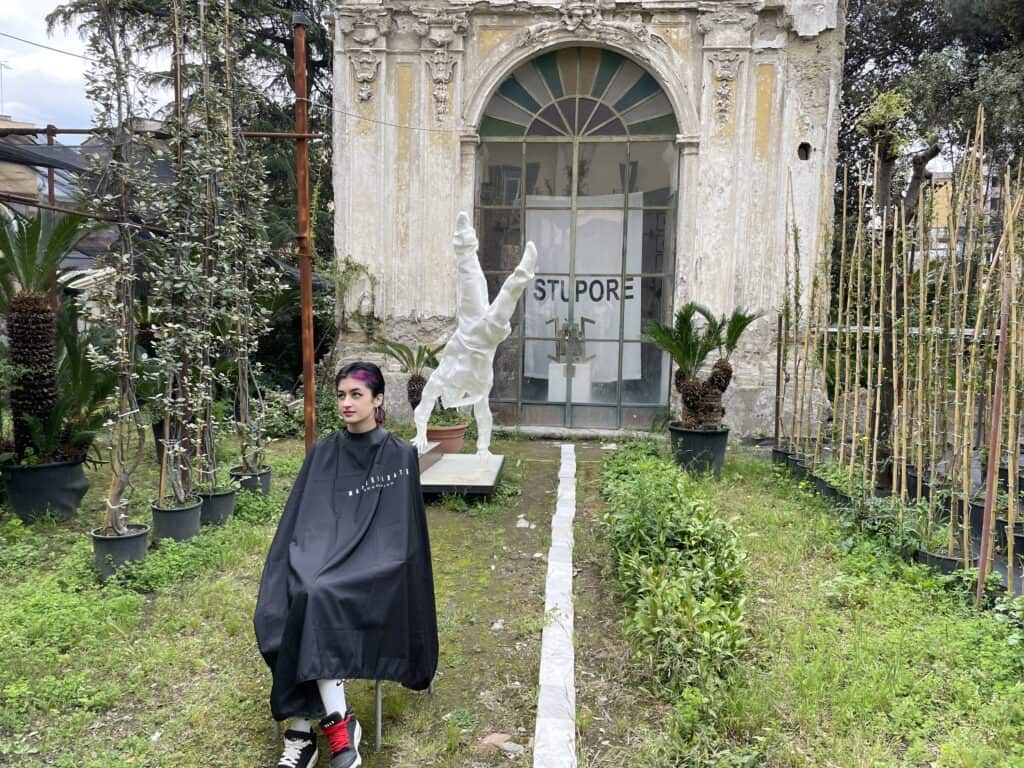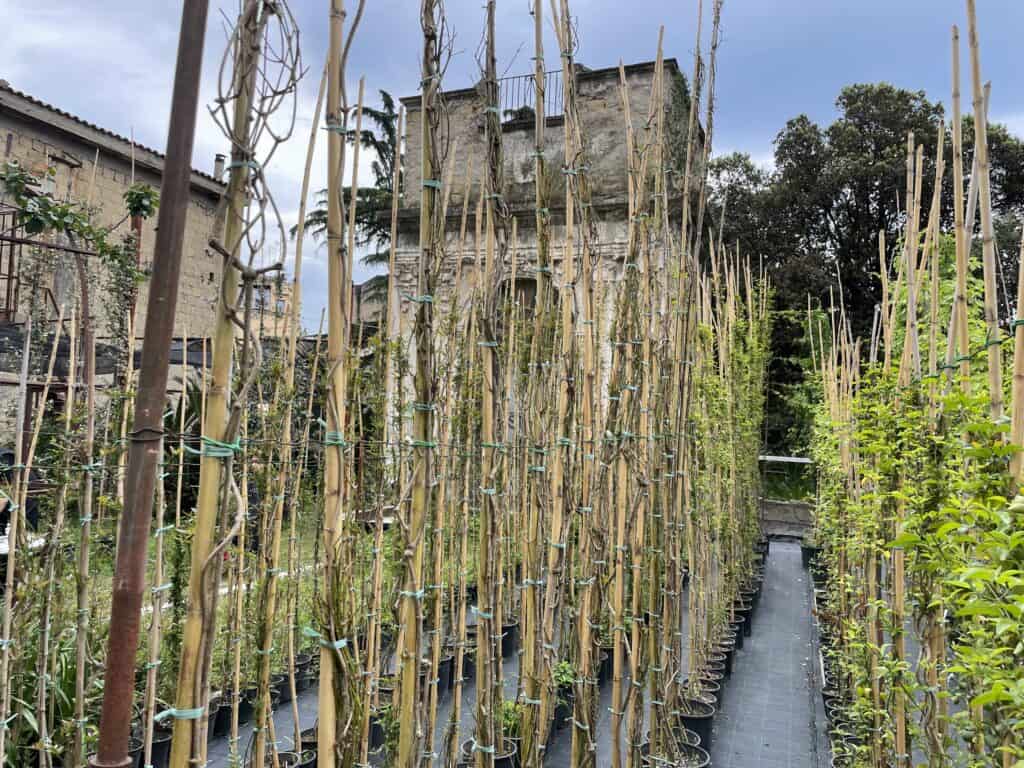 Next, head to Orto Botanico (Botanical Garden). This historic garden is home to a diverse range of flora, including exotic plants and ancient trees. Take your time to explore the various sections and enjoy the peaceful ambiance.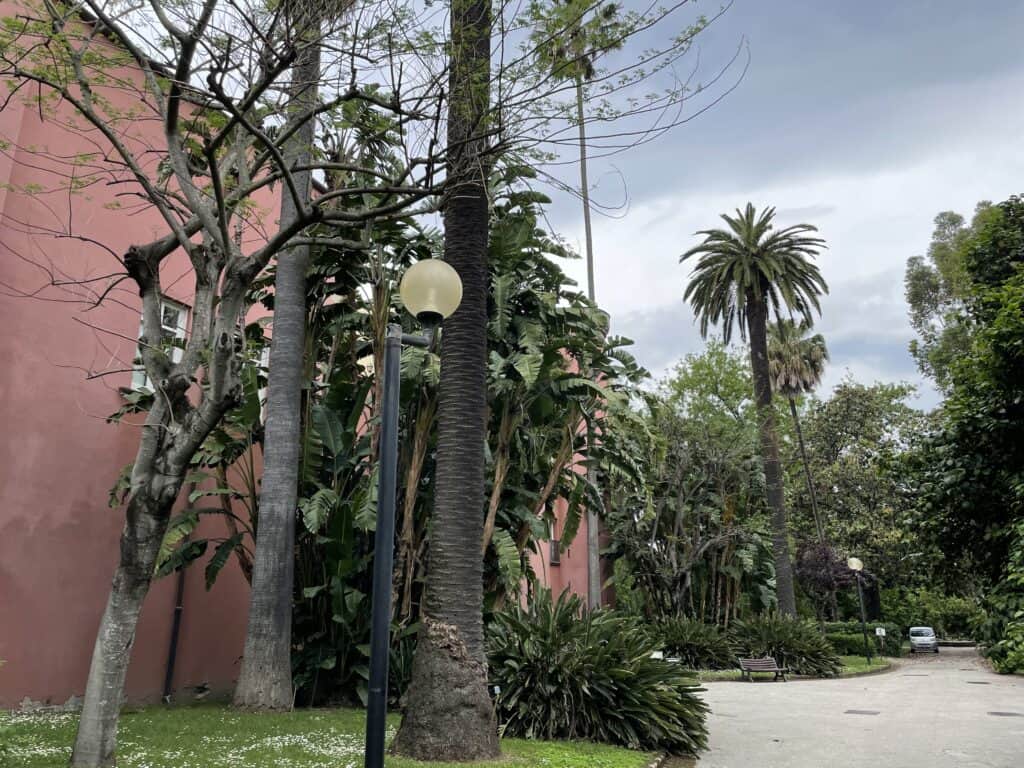 In the midst of the Sanità district, a historic and controversial neighborhood in Naples, stands the Palazzo dello Spagnolo. This building was regularly frequented by King Charles III of Bourbon, but its main attraction is its Neapolitan Baroque architecture, highlighted by a double staircase with open ramps known as "falcon wings," creating a spectacular effect.
If it seems familiar, it's possible that you've seen Palazzo dello Spagnolo as a location in a movie or TV series. A heartfelt thanks goes to the residents who keep the main entrance open, allowing everyone to enjoy the view of this place.
It's time for a delicious lunch at Pizzeria Brandi. This renowned pizzeria is known for being the birthplace of the Margherita pizza. Indulge in authentic Neapolitan pizza and savor the flavors that made Naples famous.
After lunch, walk to Grand Caffè Gambrinus, a historic café located in the heart of Naples. At this Gran Caffè, was born the tradition of "caffè sospeso" (suspended coffee) in the second half of the 19th century. What does it involve? Simply put, some customers at bars leave prepaid coffees for those less fortunate, for those who cannot even afford to spend a euro to enjoy a cup of coffee. It is one of the manifestations of the generous spirit of social solidarity that thrives within the Neapolitan community.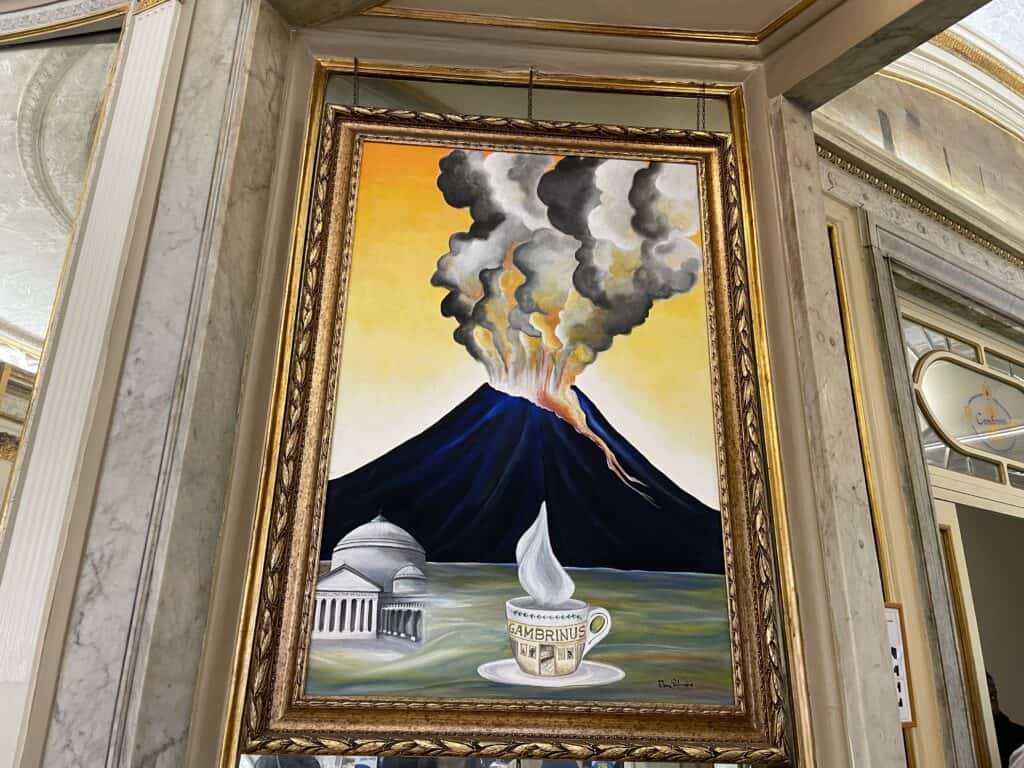 Naples, whether due to the American occupation or the hunger suffered in the post-war period, was one of the most thriving cities for brothels. Until 1958, there were at least 900 of them. From the Quartieri Spagnoli to Via Chiaia, one of the largest red-light districts that Europe had ever seen extended. At 3 vico Sant'Anna di Palazzo stood the historic "La Suprema," now known as Chiaja Hotel De Charme, where wealthy clients awaited Nanninella a'spagnola, Mimì d'o Vesuvio, Anastasia 'a friulana, and Dorina from Sorrento.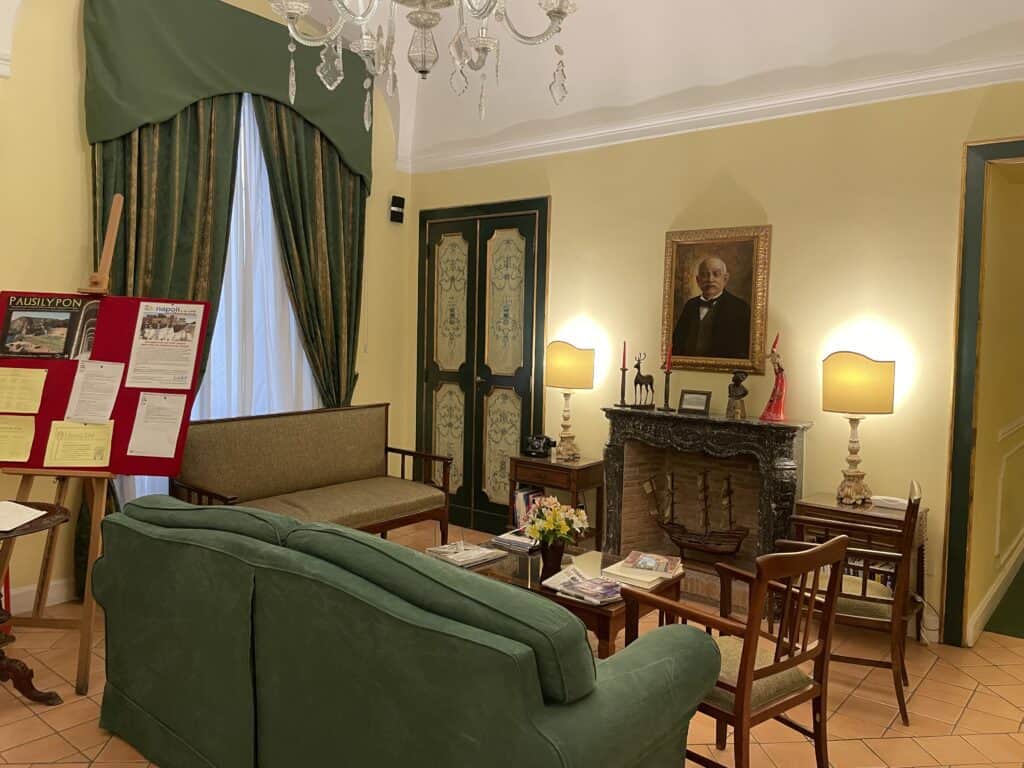 Next, head to Piazza del Plebiscito, not only one of the iconic places representing Neapolitan cultural and artistic tradition but also one of the most significant and spacious squares in Italy. With its 25,000 square meters, it offers ample space to explore and discover the various beauties within it. Starting from the Basilica dedicated to San Francesco da Paola, to the imposing Royal Palace located opposite the square, there are numerous attractions to be found within its boundaries.
There is also a legend about this square, stating that no one has ever been able to pass through the two equestrian statues in the middle of the square due to the curse of Queen Margherita. According to the legend, every month, the queen would grant freedom to prisoners only if they were able to blindfoldedly cross the square and pass through the gap between the two equestrian statues. However, this was a futile hope as no one would ever succeed in this endeavor.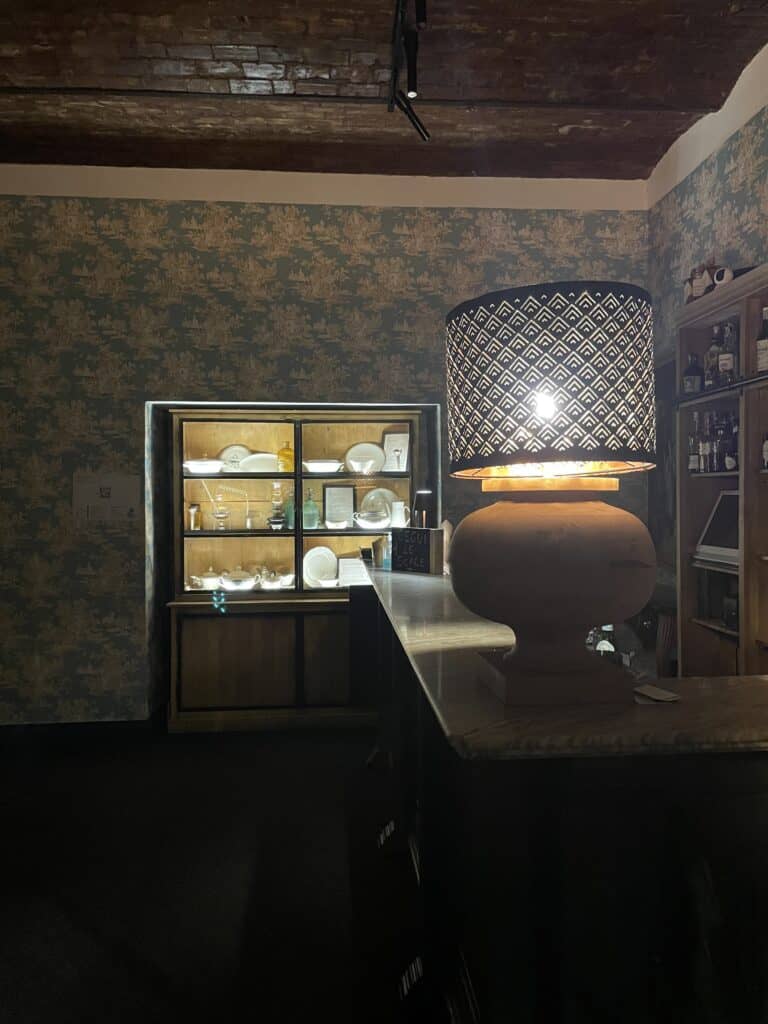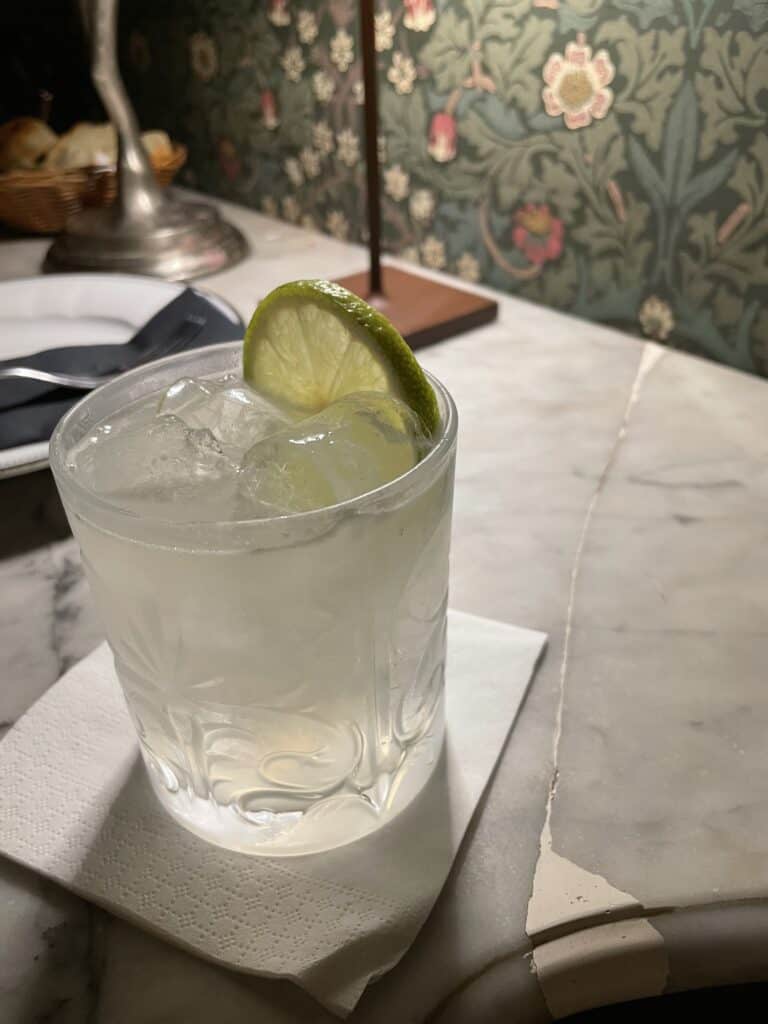 Nestled on the hills of Vomero, just a short walk from the Museum of San Martino Charterhouse, is the restaurant-cocktail bar that has captured Naples. This establishment aims to provide an engaging and comprehensive experience through a refined blend of mixology and cuisine, all within a location that exudes the atmosphere of a speakeasy. Thus, a unique cocktail bar emerges in the heart of Naples, celebrating Bourbon culture and paying homage to the city's past. Don't miss this place.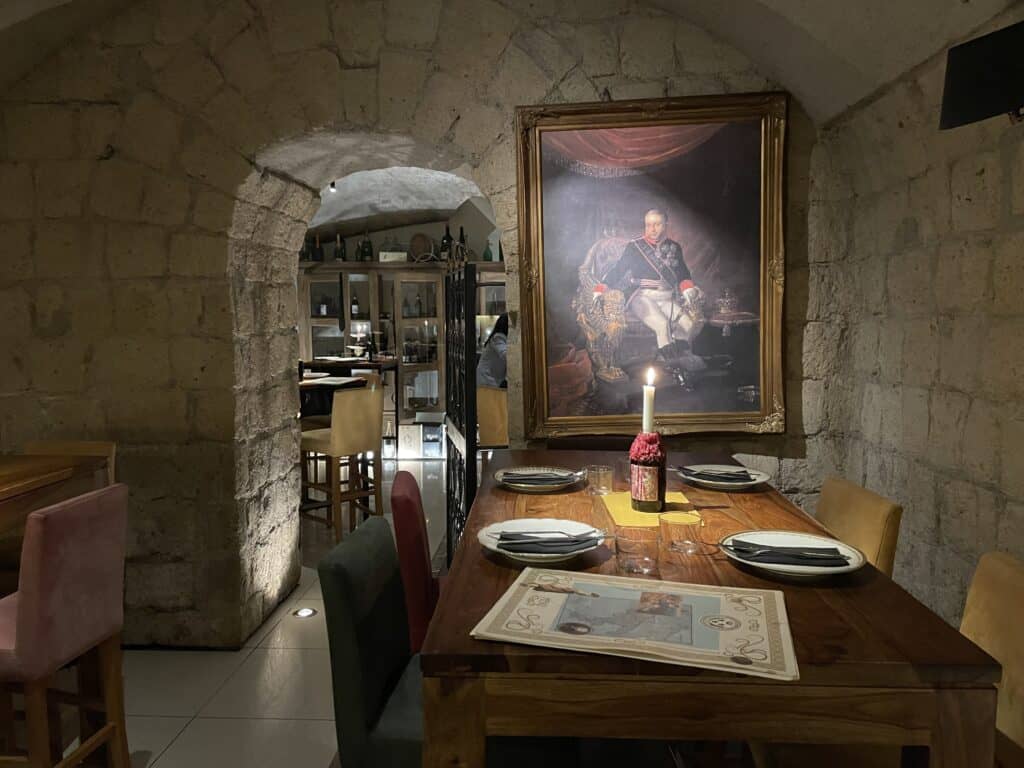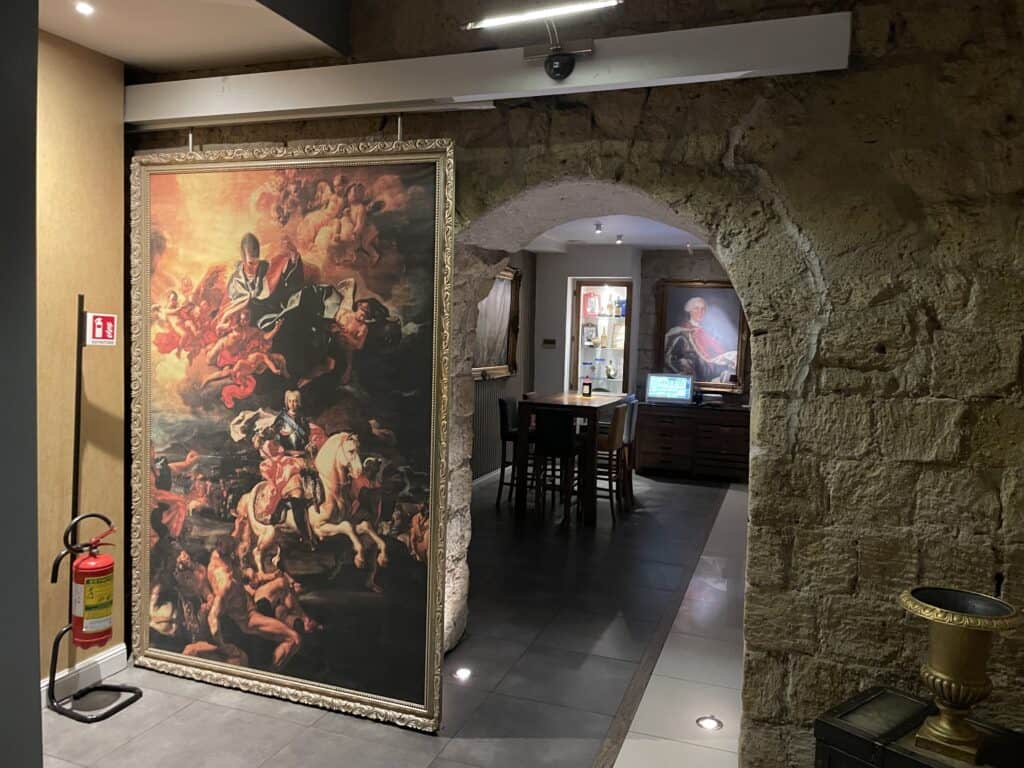 For your after-dinner plans, head to Flanagan's Rooms, a charming cocktail bar located in an elegant early 20th-century building at Via Morghen 31, in the heart of Vomero. With four rooms spanning 100 square meters, retro furnishings, leather Chesterfield sofas, and atmospheric lighting designed by architect Stefania Piscopo, this establishment offers a captivating ambiance.
Remember to check the opening hours and any specific recommendations for each location to ensure a smooth experience during your 48-hour tour of Naples. Enjoy your exploration of the city's secrets!